Reviews
Created: 06.05.2012 16:44 Last Modified: 07.05.2012 00:27 Views: 179164
Keywords: Android, applications, BlackBerry, games, Internet, Playbook, RIM, swipe, tablet
Let's Play with BlackBerry Playbook
Research in Motion (RIM) is famous for providing enterprise solutions so I was surprised when I understood that the company had launched a tablet which targets primarily gamers. BlackBerry Playbook is a nice device with 7 " TFT capacitive display that can be shipped with 16 GB, 32 GB or 64 GB of storage. Several months ago I got a Playbook and I would like to share my experience.
Unboxing
BlackBerry Playbook is shipped with a cool neoprene sleeve in a stylish box. A microUSB cable and a travel charger are also included. It was a real pleasure to open its box!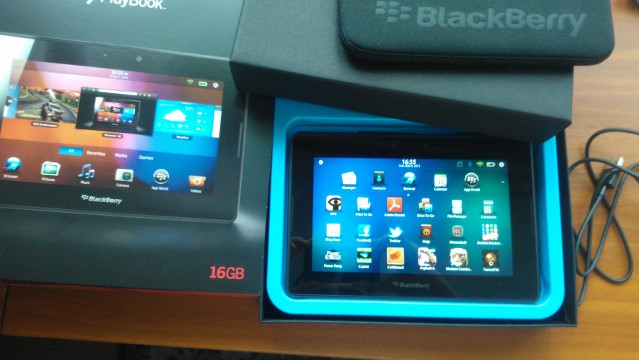 Before the first start of the BlackBerry Playbook make sure that you are in range of a WiFi with a fast connection from a reliable Internet broadband. Press the power button to start the tablet. It will automatically download an important OS update which cannot be skipped.
User Experience
BlackBerry Playbook offers innovative and user-friendly interface that differs from iOS and Android.

In my opinion the main advantage of BlackBerry Playbook compared to other tablets on the market is the lack of any hardware keys on the front panel and the innovative navigation. Just swipe! It reminds me the navigation of Nokia N9 – a smartphone with MeeGo Harmattan OS.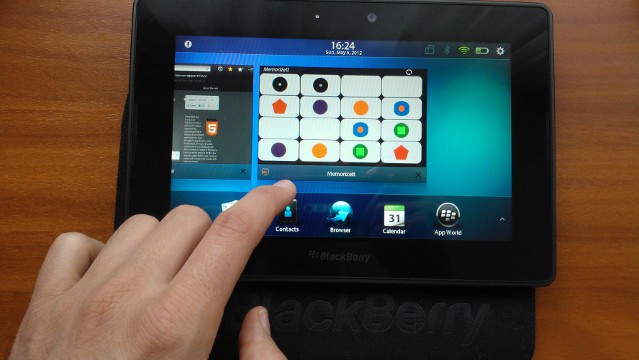 As a disadvantage I must state the lack of 3G or LTE network interface. But it should not be a problem for owners of BlackBerry smartphones because they can share Internet connection. They just have to pair their Playbook to their smarphone with BlackBerry Bridge.

The 7 inch display is excellent for games but according to me it is not very convenient for reading books.

The default Internet Browser is fast, reliable and it supports Flash! It scored 373 and 9 bonus points last time when I ran the HTML5 test.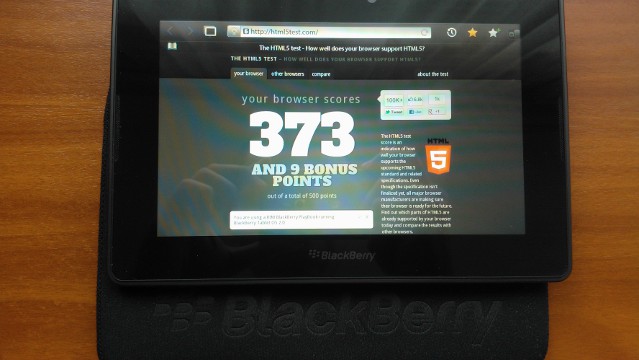 New applications and games can be downloaded using BlackBerry App Word application which is preinstalled on the device. There is a variety of free games and entertainment applications.

Software Development
It is amazing how easily native Android and Qt applications can be ported to BlackBerry Playbook OS. Android developers have a couple options to convert their applications for the Playbook: Eclipse Plugin for repackaging and signing apps or Online BlackBerry Packager. The extension of the BlackBerry Playbook package files is called bar. It is a zip archive with a specific directory structure and an embedded meta-information. Developers that do not have a real testing device can download a Playbook simulator, run it using VMware Player and install the bar files of their applications.